THE NEW YORK TIMES
Muslim Woman Denied Job Over Head Scarf Wins in Supreme Court
WASHINGTON — The
Supreme Court
on Monday revived an employment discrimination lawsuit against Abercrombie & Fitch, which had refused to hire a Muslim woman because she wore a head scarf. The company said the scarf clashed with its dress code, which called for a "classic East Coast collegiate style."
"This is really easy," Justice Antonin Scalia said in announcing the decision from the bench.
The company, he said, at least suspected that the applicant, Samantha Elauf, wore the head scarf for religious reasons. The company's decision not to hire her, Justice Scalia said, was motivated by a desire to avoid accommodating her religious practice. That was enough, he concluded, to allow her to sue under a federal employment discrimination law.
The vote was 8 to 1, with Justice Clarence Thomas dissenting.
Ms. Elauf had been awarded $20,000 by a jury, but the United States Court of Appeals for the 10th Circuit, in Denver,
overturned the award
, saying the trial judge should have dismissed the case before trial. "Ms. Elauf never informed Abercrombie before its hiring decision that she wore her head scarf, or 'hijab,' for religious reasons," Judge Jerome A. Holmes wrote for the appeals court.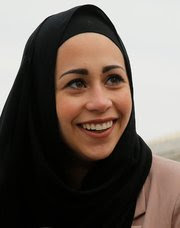 Samantha Elauf.
Jim Bourg/Reuters
The
Supreme Court
sent the case back to the appeals court for further consideration, but Monday's ruling suggests that Ms. Elauf is likely to prevail.
Justice Scalia, writing for seven justices, said Ms. Elauf did not have to make a specific request for a religious accommodation to obtain relief under Title VII of the Civil Rights Act of 1964, which prohibits religious discrimination in hiring.
"Title VII forbids adverse employment decisions made with a forbidden motive," Justice Scalia said from the bench, "whether this motive derives from actual knowledge, a well-founded suspicion or merely a hunch."
Justice Scalia elaborated on this point in his written opinion. "An employer may not make an applicant's religious practice, confirmed or otherwise, a factor in employment decisions," he wrote.
Groups that represent religious minorities, including Muslims, Sikhs and Jews, applauded the ruling. They said it would help protect their members against employment discrimination based on their members' religious attire, head coverings or beards.
"The decision by the Supreme Court today affirmed the basic right to practice one's faith freely without fear of being denied the opportunity to pursue the American dream," said Gurjot Kaur, senior staff attorney of the Sikh Coalition, a national advocacy group.
Employment Discrimination
The court decided in Equal Employment Opportunity Commission v. Abercrombie & Fitch Stores that Samantha Elauf was not required to make a specific request for a religious accommodation to wear a hijab when applying for a position at a children's clothing store owned by the company.
8-1
Sotomayor
Kagan
Ginsburg
Breyer
Kennedy
Roberts
Scalia
Alito
Thomas
• The company declined to hire Ms. Elauf, saying her scarf clashed with the company's dress code. It maintained that it should not have been made to guess that she wore a head scarf for religious reasons.
The case started in 2008 when Ms. Elauf, then 17, applied for a job in a children's clothing store owned by Abercrombie & Fitch at Woodland Hills Mall in Tulsa, Okla. She wore a black head scarf but did not say why.
RECENT COMMENTS
Dan Bray
16 minutes ago
I think she was making a much bigger deal about this, than necessary. What if I was a Mormon and wanted to work for A & F, but was told...
Curt
17 minutes ago
In 2013 a 16-year old Swedish citizen, Hussein Radhi, was denied admission to an industrial technology program at a Swedish high school. The...
TKList
22 minutes ago
Civil Rights Act goes too far.
SEE ALL COMMENTS
WRITE A COMMENT
The company declined to hire her, saying her scarf clashed with the company's "Look Policy," or dress code. After the
Equal Employment Opportunity Commission
sued on Ms. Elauf's behalf, the company said it had no reason to know that Ms. Elauf's head scarf was required by her faith.
In
its Supreme Court brief
in the case, E.E.O.C. v. Abercrombie & Fitch Stores, No. 14-86, the company argued that job applicants should not be allowed "to remain silent and to assume that the employer recognizes the religious motivations behind their fashion decisions."
Carlene Benz, an Abercrombie spokeswoman, said the company had altered its dress code since 2008, allowing workers "to be more individualistic." She added that the company "has a longstanding commitment to diversity and inclusion" and "has granted numerous religious accommodations when requested, including hijabs."
At the trial, Ms. Elauf said she loved movies, shopping, sushi and the mall. "It's like my second home," she said.
Her experience with Abercrombie made her feel "disrespected because of my religious beliefs," she said. "I was born in the United States, and I thought I was the same as everyone else."
Justice Samuel A. Alito Jr. voted with the majority to reverse the appeals court's decision, but he did not adopt the majority's reasoning. "I would hold," he wrote, "that an employer cannot be held liable for taking an adverse action because of an employee's religious practice unless the employer knows that the employee engages in the practice for a religious reason." He added that in this case there was "ample evidence" that "Abercrombie knew that Elauf is a Muslim and that she wore the scarf for a religious reason."
In dissent, Justice Thomas wrote that the company's dress code was a neutral policy that could not be the basis for a discrimination lawsuit.
Laurie Goodstein contributed reporting from New York.