China's
President Xi Jinping's visit to Pakistan has invited a flurry of instant analysis by world press. Each reveal their own assessment, which may or may not be the objective reality attending the long-delayed meeting. Here 3 articles from UK, US and India.
UK
http://www.economist.com/news/asia/21648698-pakistans-all-weather-friendships-are-under-strain-storm-tossed
Banyan
Storm-tossed
Pakistan's "all-weather" friendships are under strain
Apr 18th 2015 |
From the print edition
A scathing synopsis of Pakistan's
foreign policy might boil it down to four principles: provoke India, but not too much; say what America wants to hear; do what China wants done; and provide what rich Arab donors in the Gulf think they have bought. To the surprise of many, that last maxim has just been flouted. This month Nawaz Sharif, the prime minister, referred to Parliament a request from Saudi Arabia to send soldiers to assist in the war in Yemen. Parliament decreed that Pakistan should stay neutral. It is not just governments in the Gulf that are cross with Pakistan. So are India (even more than usual), America and even China. But Mr Sharif may not be too worried: as so often, Pakistan's international position is stronger than it looks.
Members of the Saudi-led coalition in Yemen are certainly incensed. Anwar Mohammed Gargash, a minister from the United Arab Emirates, raised hackles in Pakistan by warning that it would pay a "heavy price" for its "ambiguous stand". Saudi Arabia had even more reason to complain. Nawaz Sharif owes the kingdom a personal debt. It helped free him from prison and gave him a home in exile after a military coup in 1999 ended an earlier stint as prime minister. A gold-and-silver model of Mecca and Medina, a gift from the late King Abdullah, has pride of place in his plush living room in Lahore. And in March last year Saudi Arabia made Pakistan a "friendly gift" of $1.5 billion, a big boost to the government's finances. It was an "unconditional" grant, but might have been expected to buy some security co-operation.
Yet not one MP spoke in favour of deploying troops in Yemen. It seemed a bad idea for many reasons. Despite the Pakistani army's status as the Muslim world's biggest fighting force, and its long experience of counter-insurgency warfare in rugged terrain, getting sucked into Yemen would be a dangerous gamble. Besides, the army is battling militant groups in Pakistan's lawless tribal areas. Nor is it in Pakistan's interests to be caught up in a proxy conflict between Saudi Arabia and Iran. The kingdom is an important friend and donor, but Pakistan also shares a 900-kilometre (560-mile) border with Iran. It stands to benefit if sanctions are lifted following a deal on Iran's nuclear programme—especially if a long-moote
d pipeline to supply much-needed Iranian gas becomes operational. Conversely, a hostile Iran could meddle dangerously in some of Pakistan's internal conflicts. It borders the province of Balochistan, where an insurgency simmers. And there and elsewhere, Pakistan suffers frequent sectarian violence between Sunni and Shia Muslim extremists. Like Saudi Arabia, it has a Sunni majority. But about one-fifth of Pakistanis are Shias, as are most Iranians. The last thing Pakistan wants is to take sides in a region-wide Sunni-Shia struggle.
Discussing Parliament's decision, Mr Sharif chose to stress what it did agree to: that any threat to Saudi Arabia's territory would "evoke a strong response" from Pakistan. Its ties with the kingdom are deep enough to withstand this upset. And Pakistan has one asset which Saudi Arabia will surely regard as more precious than ever in the light of an Iranian agreement: the bomb. Many believe Saudi Arabia has an understanding with Pakistan that, if disaster threatens, it will help it acquire nuclear weapons.
As "The China-Pakistan Axis", a recent book by Andrew Small, makes clear, Pakistan owes its nuclear capability in part to Chinese help. When they talk about this friendship, Pakistani leaders seem about to burst into a torch song: "deeper than the deepest ocean", "sweeter than honey", etc. But the romance has hit a rocky patch: witness the difficulty in scheduling a first visit to Pakistan by Xi Jinping, China's president. Unrelated street protests in Islamabad, the capital, last year delayed one attempt. After Barack Obama attended India's National Day parade in January, Pakistan hoped in vain that Mr Xi would attend its own last month. But China also hopes to get on better with India. Next month it will play host to its prime minister, Narendra Modi.
Moreover, Pakistan has irked officials in Beijing over China's most pressing domestic-security concern (especially since a horrific knife attack at the railway station in Kunming in south-western China a year ago in which 29 people were killed): terrorism stemming from the grievances of China's Uighurs, a mainly Muslim Turkic minority in its vast western region of Xinjiang. Some Uighurs have long fought in Afghanistan (22 Uighurs, all now free, were held in Guantánamo Bay) and a few dozen Uighur militants linger on in Pakistan's tribal areas. Nothing suggests they can stage attacks in China. But Pakistan's best friend forever wonders why the country's army has not simply eliminated them.
Mr Xi's visit now seems about to happen, however. Besides the lovey-dovey speeches, it is likely to be marked by announcements putting flesh on the bones of a proposed "China-Pakistan economic corridor" involving tens of billions of dollars of Chinese investment. The perennial benefit of the relationship for China is that Pakistan preoccupies India, a potential rival to China, with its local difficulties. But there are many other advantages. One is a seaport on the coast near Iran, at Gwadar, which may be useful to China's navy. Another is intelligence links and access to some of the militant groups that will help shape Afghanistan's future as American troops withdraw.
So Pakistan can feel confident that China's recent apparent snubs are blips in relations. India, meanwhile, is furious that a Pakistani court has this month freed on bail Zaki-ur-Rehman Lakhvi, the alleged mastermind of the terrorist attack on Mumbai in 2008 in which 166 people were killed. America, too, has expressed "grave concern". But neither country seems likely to retaliate. So far it has not, for example, affected Pakistan's purchase of $1 billion-worth of high-tech American weaponry, approved this month. As even the irascible Mr Gargash may learn, Pakistan has a knack for getting away with angering friend and foe alike.
---
US
THE NEW YORK TIMES
China's President Heads to Pakistan With Billions in Infrastructure Aid
Photo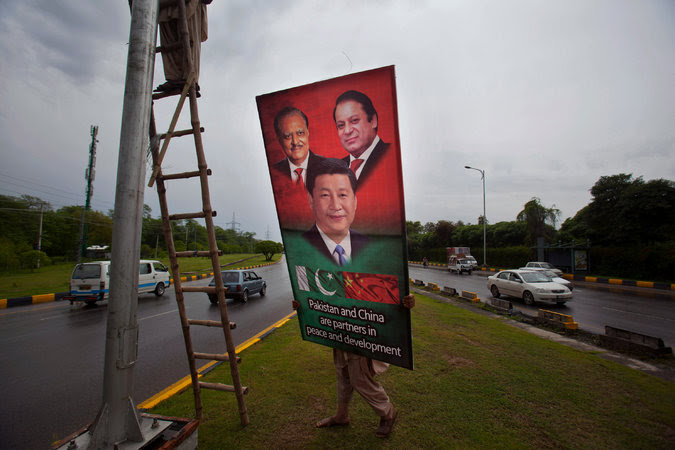 President Xi Jinping of China will sign accords for projects worth $46 billion during a visit to Islamabad on Monday. Credit Anjum Naveed/Associated Press
BEIJING — China's president, Xi Jinping, travels to Pakistan on Monday laden with tens of billions of dollars in infrastructure and energy assistance on a scale the United States has never offered in the past decade of a close relationship, a gesture likely to confirm the decline of American influence in that nation.
Mr. Xi, making his first overseas trip this year, and the first by a Chinese leader to Pakistan in nine years, will arrive fortified from the robust reception to the new China-led Asian Infrastructure Investment Bank, and is looking to show that China can make a difference in a friendly, neighboring country troubled by terrorism.
Pakistani officials say that Mr. Xi will be signing accords for $46 billion for the construction of roads, rails and power plants to be built on a commercial basis by Chinese companies over 15 years.
Just as the United States sought to stabilize Pakistan during the war in Afghanistan, so China wants to prevent the spread of militant groups in Pakistan into Xinjiang, the far western region of China with a large Muslim population.
Washington tried to encourage the Pakistani government to try to stop terrorist groups from crossing the border into Afghanistan and attacking American troops, in part, by sending assistance intended to revive the gasping economy. Now, as China faces growing restiveness in Xinjiang, which has borders with Pakistan and Afghanistan, Beijing is attempting to help stem the flow of radicalism into its own backyard by bolstering development in perhaps the most vulnerable part of Pakistan.
To the increasing frustration of China, a Muslim separatist group, the East Turkestan Islamic Movement, founded by Uighurs, a Turkic-speaking ethnic minority concentrated in northwestern China, operates alongside several Pakistani terrorist groups inside Pakistan's ungoverned tribal areas. A military operation was launched by the Pakistani Army in North Waziristan last June against the Taliban, also aimed at the Turkestan group, an action designed to please China.
A significant amount of China's new assistance, including a port facility at Gwadar on the Arabian Sea, and rails and roads leading from the port across Baluchistan Province and into western China, will be in areas close to the tribal areas where the militant groups operate.
The route from Gwadar to Kashgar, in Xinjiang — a project officially called the Economic Corridor — also serves as a shortcut for the shipment of goods from Europe to China, avoiding the Strait of Malacca farther east.
"The Chinese are stepping in, in a much, much bigger way than the United States ever contemplated," said Jahangir Tareen, a Pakistani businessman, and the secretary general of the Pakistan Tehreek-e-Insaf party. "The assistance is far, far more than the United States government offered under the United States Agency for International Development."
In advance of his trip, Mr. Xi wrote in a column distributed to the Pakistani news media over the weekend: "We need to form a '1+4' cooperation structure with the Economic Corridor at the center and the Gwadar Port, energy, infrastructure and industrial cooperation being the four key areas to drive development across Pakistan and deliver tangible benefits to its people."
Most striking about the visit is the scale of Mr. Xi's aid announcement compared with the American effort from 2009 to 2012 spearheaded in Congress by John Kerry, then a senator, and pressed in Pakistan by Hillary Rodham Clinton, then secretary of state. The program designated $7.5 billion for development projects over five years.
That effort was a "dramatic failure" because the resources were scattered too thinly, and had no practical or strategic impact, said David S. Sedney, a former senior official at the Pentagon responsible for Pakistan during that period.
The Chinese appear to have learned from the American program, including the notion that the American plan was designed to deliver a strategic result — deterring terrorism — but failed to do so, Mr. Sedney said.
To do better than the United States, the Chinese have come up with "a much larger financial commitment — and it is focused on a specific area, it has a signature infrastructure focus and it is a decades-long commitment," he said.
The Chinese Foreign Ministry said on Friday that the projects in Pakistan would be the first initiatives of the $40 billion Silk Road Economic Belt and Maritime Silk Road plans, an ambitious network of roads, rails and ports designed to link China to Europe through Central Asia and Russia, and announced with considerable fanfare by Mr. Xi in November.
China's assistant foreign minister, Liu Jianchao, declined to say how much of the Silk Road funds would go to the Pakistani projects, or how much the new Asian Infrastructure Investment Bank would lend. "It needs huge financing. China stands ready to provide financing," Mr. Liu said.
Mr. Xi embarks on his visit to Pakistan after the Finance Ministry announced last week that 57 countries had signed to join the new development bank.
Perhaps just as important as China's economic assistance is a major military deal that is unlikely to be publicized during the Chinese leader's visit, Pakistani analysts said.
Pakistan has agreed to buy eight Chinese submarines to counter India's naval dominance in the Indian Ocean, a $6 billion purchase approved by a parliamentary committee in Islamabad this month.
The new submarines were "very quiet, capable and lethal," and a step up from previous Chinese arms sales to Pakistan, said Lyle J. Goldstein, associate professor at the Naval War College in Newport, R.I.
Yufan Huang contributed research.
A version of this article appears in print on April 20, 2015, on page A4 of the New York edition with the headline: Chinese President Heads to Pakistan, Bearing Gifts.
Order Reprints
|
Today's Paper
|
Subscribe
---
INDIA
Reimagining the triangle
Written by C Raja Mohan |

Published on:April 20, 2015 1:25 am
Chinese President Xi Jinping's visit to Pakistan this week presents a paradox. He is likely to unveil massive plans for the expansion of economic and strategic partnership between the two countries during the visit, as well as highlight the emerging vulnerabilities of a relationship that has long been celebrated as "higher than the Himalayas, deeper than the Indian Ocean and sweeter than honey". Xi's travel to Islamabad, coming three weeks before Prime Minister Narendra Modi's visit to China, raises interesting questions about New Delhi's changing approach towards Beijing.
During his two-day trip to Pakistan, Xi is expected to launch infrastructure projectsworth more than $40 billion.
any of these are part of the China-Pakistan Economic Corridor, considered one of the cornerstones of Xi's ambitious "one belt, one road" initiative aimed at transforming China's ties with its neighbouring regions. The "belt" refers to the overland industrialand transport corridors that will link China to the Eurasian landmass. The "road" is short form for the maritime silk road that will connect China's industrial heartland in the Pacific to the resource-rich Indian Ocean.
Beyond the economic, the leaders of the two countries could close a deal on the sale of eight submarines to the Pakistan navy. For its part, Islamabad is expected to hand over the Gwadar port on a 40-year lease to China. The port is likely to hostChinese facilities to service the ships and submarines of the PLA Navy operating in the IndianOcean.
But there is a downside to the story as well. It has not been easy to arrange Xi's visit to Pakistan. When Xi came to India in September last year, he was to have travelled to Pakistan too. But the trip was cancelled amidst political turmoil in Islamabad at that time. After US President Barack Obama's presence at India's Republic Day celebrations in January, Pakistan was eager to have Xi grace its national day parade on March 23. Xi did not show up.
It is reported that security considerations have weighed heavily on China's mind in preparing for Xi's visit to Pakistan and in its reluctance to formally announce the dates of the visit. That in turn leads to a range of new problems that have begun to cast a shadow on the all-weather partnership between China and Pakistan.
At one end is the simple question of security for Chinese personnel working on a variety of development projects in Pakistan. Over the last few years, Beijing has mounted relentless pressure on improving the security of its citizens who have become targets for the militant groups in Pakistan. Islamabad has reportedly agreed to set up a special security force of nearly 12,000 people to protect Chinese workers and projects.
Even more important for China is the problem that we in India call cross-border terrorism. The tribal areas in Pakistan's western borderlands with Afghanistan have become a sanctuary for terror groups that mount attacks in Xinjiang, China's restive Muslim-majority province that borders the subcontinent.
Security officials in Xinjiang and Beijing are no longer confident that the Pakistan army can take care of China's concerns on terrorism. As the US withdraws from Afghanistan, Beijing worries that there could be more turbulence in Pakistan, which could worsen China's internalsecurity challenges.
China is no longer viewing the Af-Pak region through the eyes of the Pakistan army. Beijing has begun to make its own assessments of the region and over the last year, it has signalled an interest in promoting peace and reconciliation in Afghanistan. It might be too early to affirm that China and Pakistan are at odds in Afghanistan, but small cracks are appearing in the once-solid regional partnership between the two. Might that open up an opportunity for India?
Until now, Delhi had assumed that their shared hostility towards India meant that the alliance between Beijing and Rawalpindi was immutable. Although the China-Pakistan alliance has been an enduring feature of our geopolitical landscape for many decades, some change is inevitable as circumstances in the region evolve. For Delhi, the question is about judging the extent of the change and finding ways to transform India's triangular relationship with Pakistan and China.
If Delhi is bold, it can influence the evolution of that relationship in two ways. For allthe grand talk about the China-Pakistan Economic Corridor, there are many constraints on a China-led industrial transformation of Pakistan. The experiences in Myanmar and Sri Lanka point to some of the problems associated with China's silk road initiatives.
Meanwhile, the potential for a sustainable economic partnership between India and China is much greater than that between Islamabad and Beijing. The problem so far has been Delhi's reluctance.
India is also in a much better position today to counter any new Chinese investments in its military alliance with Pakistan. As India deepens ties with other major powers and takes a more active role in Asia and the Pacific, Modi is in a position to credibly tell his Chinese interlocutors that the costs of Beijing's alliance
with Rawalpindi could soon exceed the benefits.
Xi's visit to Pakistan, then, must spur Modi to imagine a robust and self-confident strategy towards China that opens India to an expansive bilateral and regionaleconomic partnership. Modi must also articulate India's readiness to cooperate with China on regional security issues ranging from counter-terrorism to Afghanistan and the Indo-Pacific.
If India is the glue that binds the Sino-Pak alliance, as many argue, Delhi should have the capacity to weaken that bond through its own policies. Over the last decade, Delhihas managed to alter the triangular dynamic with Pakistan and America by expanding its partnership with Washington. There might be similar possibilities awaiting Modi in Beijing.
The writer is a distinguished fellow at the Observer Research Foundation, Delhi and a contributing editor for 'The Indian Express'