http://indianexpress.com/article/cities/mumbai/it-has-power-looms-it-powers-the-e-commerce-boom-yet-bhiwandi-remains-a-backwater/99/
It has power looms, it powers the e-commerce boom, yet Bhiwandi remains a backwater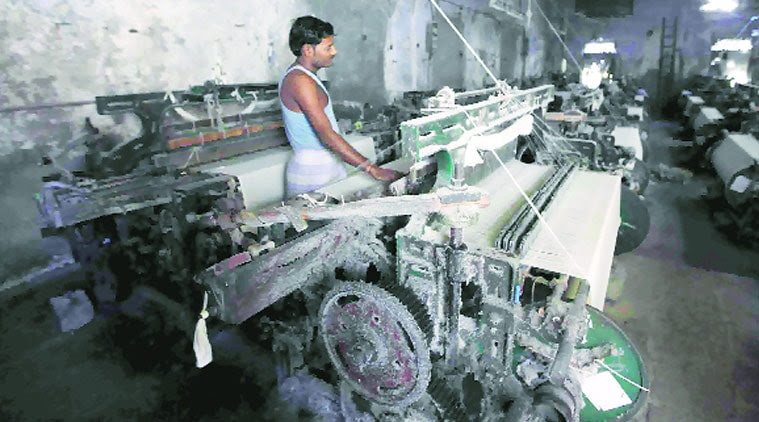 A worker at a power loom (Source: Express photo)
Written by Zeeshan Shaikh | Bhiwandi |

Published on:March 26, 2015 2:55 am
Track an order placed on an e-commerce site and in most cases, your package would have left a warehouse in Bhiwandi.
The city that lies 50 km on the northern fringe of Mumbai has 10 lakh power looms that weave nearly a third of the cloth that the country wears, and has 7 crore sq ft of warehouse space — the largest cluster in Asia — that powers the e-commerce boom.
But walk through Bhiwandi, and there is little to show on the ground. Barring a lone flyover and numerous real estate billboards promising a 1 BHK flat for Rs 25 lakh, itappears to be virtually untouched by the exponential infrastructural growth of other cities, even neighbours like Thane.
Bhiwandi lies at the crossroads of two majornational highways – the NH-3 and NH-8. This Muslim-dominated city has a population of 7 lakh, and a floating population of an equal number.
Its strategic positioning has thrown it up on the radar of both the Central and the state governments, which plan to transform this crumbling sprawl into a smart city complete with efficient utilities and public Wi-Fi. Chief Minister Devendra Fadnavis is keen that the area should be transformed into a logistics hub.
The last time Bhiwandi reaped a public spending windfall was when the Centralgovernment allocated Rs 70 crore in the Union Budget 2008 for the development of a power loom mega cluster.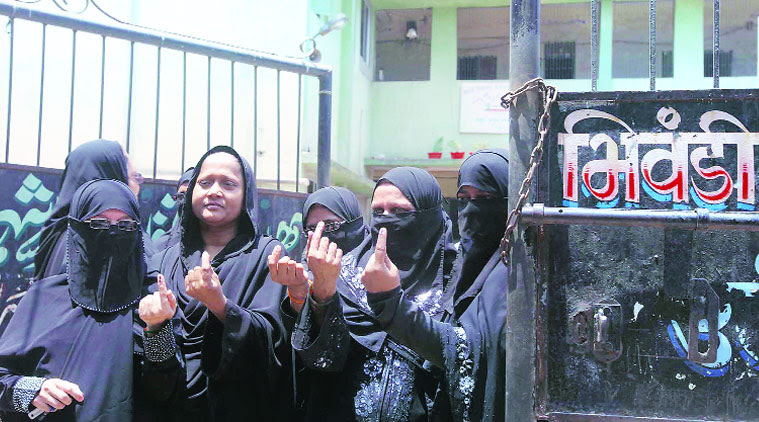 Bhiwandi lies at the crossroads of two major national highways – the NH-3 and NH-8.
Eight years later, Faizan Azmi, the septuagenarian head of the Maharashtra Powerloom Federation, the umbrella body of the power loom owners says he is still wondering where and how that fund was spent.
"The government has neglected this sector and this town. Its policies are flawed for the simple reason that rather than providing financial help to those who do no not have access to credit they are designed to provide help to bigger players who have easy access to money. These policies are pushing smaller and marginal people out ofbusiness," says Azmi.
Bhiwandi's textile industry was promoted by migrant Muslim weavers from Uttar Pradesh and Bihar fleeing the wrath of the British after the 1857 uprising.
Nothing much has changed in the way this age-old craft is practised apart from the industry making the transition from handlooms to power looms.
Yarn here is spun into a cloth of a rough hew which is called "Grey" in trade parlance. In the 150-odd years that the trade has been in existence in the city, no effort has been made towards vertical integration so that this Grey can be processed and dyed into fabric sold to the end-user.
Grey from Bhiwandi, even today, is sent to other centres for further processing into finished fabric. "We sell the cloth for anything as low between Rs 10 to 25 per metre. After processing which happens outside of Bhiwandi, the same cloth can be sold for anything upward of Rs 150 per metre. In the last 150 years there have been no concrete steps or government help in processing this cloth in the city itself," Azmi says.
Bhiwandi was once able to produce cloth at very cheap prices with a complete disregard for legality as it had a large and cheap labour force and massive power thefts.
The city was once the bane of the state's electricity board with power thefts as high as 65 per cent. But now it has been hit badly by imports, the privatisation of power supply and competition from other textile centres. Higher operational costs and lack of modernisation have also hurt the industry.
Seeing the spinning looms, the dire state of the industry is not evident. The number of power looms touches 10 lakh today, from 6.5 lakh in 2008, but margins are declining.
The power loom industry employs nearly five lakh workers, who put in anywhere from 12 to 16 hours a day and are paid measly salaries of less than Rs 9,000 a month without any benefits. Zameeruddin Ansari, 56, has been working as a power loom operator for the past 40 years. He draws a monthly salary of Rs 9,000 after shuttling between six power looms for 12 hours non-stop.
There are no fans in the cauldron-like environs of the factory, which continuously dispenses small specks of cotton that eventually ends up clogging the lungs of many textile workers.
"It is not something that I like to do but there is nothing else that I can do in this phase of my life," says Ansari.
The only bright spot is the extra Rs 80 Haq Mazdoori that he gets every month which is deemed as bonus granted by the employer. One of Ansari's two sons has followed him into the profession while another has been packed off to a religious seminary for abetter life.
The succour that religion provides to the oppressed and the weak is evident in Bhiwandi going by the glaring symbols of religiosity on display in the poorer parts of the city like Shanti Nagar where Ansari resides.
Inspiration and heroes who provide hope are Islamic warriors such as Salahuddin Ayyubi — better known as Saladin the Egyptian Sultan — who successfully led an opposition against the European Crusaders in the 11th century. A tribute to him comes in the form of schools named after him. Shanti Nagar, a slum of two lakh migrants which has come up on forest land is one of the 27 slum pockets of Bhiwandi, home to labourers and migrants.
The frustration is more evident on the faces of migrant workers who are called "Chaddias" by the locals. Having left behind their families, these bachelors like 32-year-old Dilshad Ahmed stay in 80 sq ft hovels along with dozens of others putting in 16 to 19 hours a day. "There is no work back there. That is why I am trying my luck in Bhiwandi," says Ahmed.
This frustration of the workers seems to pervade the political class as well who feel that the city has been made to miss the development bus.
Despite its strategic advantage, Bhiwandi is yet to be included under the Jawaharlal Nehru National Urban Renewal Mission.
The Mumbai Metropolitan Region Development Authority (MMRDA) had unveiled a development plan for over 50 villages outside Bhiwandi. The only impact of this plan seems to be a towering 30-storey building on the outskirts. The interior of the city, meanwhile, is cramped and filthy.
Javed Dalvi, Leader of the Opposition in the Bhiwandi-Nizampur Municipal Corporation and a former mayor compares the journey of Bhiwandi with Pimpri-Chinchwad to drive home the point of how both cities have moved in opposite directions on development.
"The Pimpri-Chinchwad Municipal Corporation and the Bhiwandi-Nizampur Municipal Corporation were set up almost at the same time. Look at where Pimpri-Chinchwad is and where Bhiwandi stands. Inspite of this city's importance we still do not have an IAS officer to head the corporation. None of the major works or infrastructure that were taken up in the last decade were completed," says Dalvi.
The emergence of Bhiwandi as a logistics hub has more to do with private sector initiative rather than state-led effort.
The state government had for the first time in 1983 approved the setting up of warehouses in Bhiwandi. A decade later, businessmen sensed an opportunity with economic liberalisation, giving a boost to business.
The political situation too presented an opportunity. Bhiwandi had gained infamy as a communal cauldron, which led to depressed land prices. Companies created huge depots to stock their goods.
This laid the foundations of a transhipment point that gained traction with the entry of professional logistics companies.
Powerloom owners like Vinod Malde, 44, saw that the future lies in the logisticsbusiness, and invested heavily in buying land in the early part of this decade. He now owns 300 acres, which house warehouses. His Arham Logiparc provides services to a premium global whitegoods brand.
Every order for a new television or computer made in Mumbai is routed through Malde's park which packs and dispenses the product to its destination.
Malde claims that there would be nearly 10,000 big or small warehouses in the area which would be serving entire Western India supplying everything from toothpaste to computer parts.
"If Bhiwandi stops functioning for a day entire Mumbai will get crippled. We are treated like porters of this economy. Necessary for its functioning but unseen and unthought about when it comes to providing any kind of benefits," says Malde.
Architect K K Durraj who designed nearly half the major warehouses in Bhiwandi persuaded the Devendra Fadnavis government to regularise some of the illegal ones and provide a commitment to turn the region into a logistics hub.
Interestingly the present Floor Space Index that the government has allowed for warehouses is 0.1 which means that on a 100 sq ft plot a developer can build only 10 sq ft of space. Inspite of the insistence of local developers that the proposal should be eased the state government which wants to develop the area as a logistics hub is still dilly-dallying.
"The Chief Minister has promised to look into the issues of the cities development. However what can you say about the state's commitment to the city when you see that a city which provides so much revenue to the exchequer still does not have direct rail connectivity to Mumbai," K K Durraj CMD of KK and Associates said.
Inspite of the government's visible neglect, Bhiwandi and its outskirts seem to be teeming with people ferried in hundreds of buses to the local warehouses to pack and ship goods.
Many of these warehouses have impromptu fruit and vegetable markets set up outside the warehouses to cater to the largely women workers who work in eight-hour shifts and come as far away as Lonavala and Vasai.
With the proliferation of these warehouses, working conditions are poor. Huge trucks ferrying goods jostle for space on crumbling roads with workers coming in and out of warehouses.
"It is scary some at times travelling within the warehouse with trucks travelling on patchy roads. We have heard that the government is planning to develop these areas. We hope it does before someone loses their life,"says Vandana Pawar a resident of Vashi who works in one of the warehouses.