My comments posted on Times of India article:
West at war with Islam is an ugly lie, says Obama
" There are two sides to this ugly demonization of Islam. While Obama for political reasons blames Al Qaida and ISIS for bringing in Islam to fight territorial wars, in fact it all started with the evil theorizing of Zionist Bernard Lewis and Samuel Huntington that in all reality, unleashed the agenda for Clash of Civilizations, to focus on Islam as their next target after Communism. Again that same group of Neo-cons that had hijacked America's resources to fight wars of their own choosing, own agenda, for self-serving interests of both temporary as well as permanent nature. Obama is very much informed of the vile conspiracies, but needs to be politically correct. And that's the reason he is not bringing in the Zionist War on Islam."

West at war with Islam is an ugly lie, says Obama
Chidanand Rajghatta,TNN

|

Feb 20, 2015, 02.31 AM IST

US President Barack Obama has praised the work done by the Gang of Eight, the bi-partisan group of eight Senators, on the immigration reform bill
.
WASHINGTON: Invoking the success of Muslim business leaders in India - "a country with one of the world's largest Muslim populations" - and appointing Rashad Hussain, Indian-American of Muslim faith as the new coordinator of counterterrorism communications, President Barack Obama on Thursday urged countries and communities to confront the warped ideologies espoused by terrorists like al-Qaida and ISIL, especially their attempt to use Islam to justify their violence,

saying the notion that the west is at war with Islam is an "ugly lie."



Addressing a US-led summit on countering violent extremism, Obama told a gathering at the State Department that these terrorists are desperate for legitimacy and "all of us have a responsibility to refute the notion that groups like ISIL somehow represent Islam, because that is a falsehood that embraces the terrorist narrative."

READ ALSO: Religious intolerance in India would have shocked Mahatma Gandhi, says Obama

India will succeed so long as it is not splintered on sectarian lines, says Obama

Muslim communities, including scholars and clerics, have a responsibility to push back, not just on twisted interpretations of Islam, but also on the lie that we are somehow engaged in a clash of civilizations; that America and the West are somehow at war with Islam or seek to suppress Muslims, he said.

Without naming any country, Obama said that narrative sometimes extends far beyond terrorist organizations.

The US President acknowledged that there is a complicated history between the Middle East, the West, and the western leadership should not be immune from criticism in terms of specific policies, but the notion that the West anti-Islam is not true.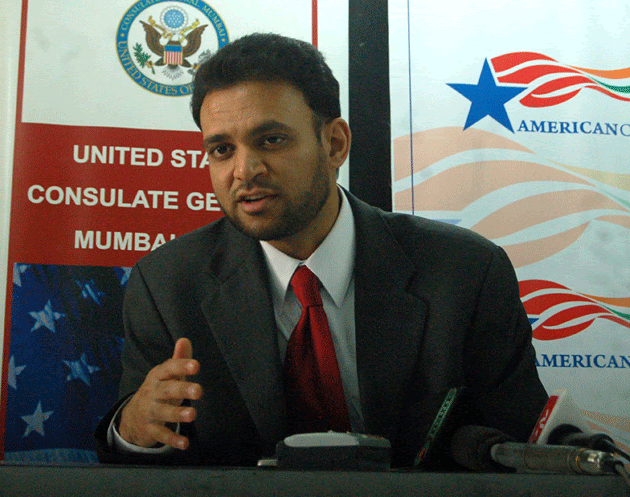 Rashad Hussain during a conference in Mumbai (TOI Photo by Prasad Kumar)
While acknowledging the need to address economic grievances, he also contested the idea that poverty is the reason for terrorism. Poverty alone does not cause a person to become a terrorist, any more than poverty alone causes someone to become a criminal, he said, pointing out that there are millions, billions of people who are poor and are law-abiding and peaceful and tolerant, and are trying to advance their lives and the opportunities for their families.

The US pushback against the ISIL narrative that had been attracting Muslim youth from across the world, including from India, will be led by Rashad Hussain, a US-born attorney of Indian origin, who has been the US special envoy to the Organisation of Islamic Cooperation (OIC). In previous jobs, Hussain has led the Obama administration's Counterterrorism and Anti-Radicalization Efforts.

-----