http://www.abplive.in/blog/my-friend-union-minister-mj-akbar
My friend, Union minister MJ Akbar
By:
Aakar Patel
|
Last Updated:
Saturday, 9 July 2016 3:11 PM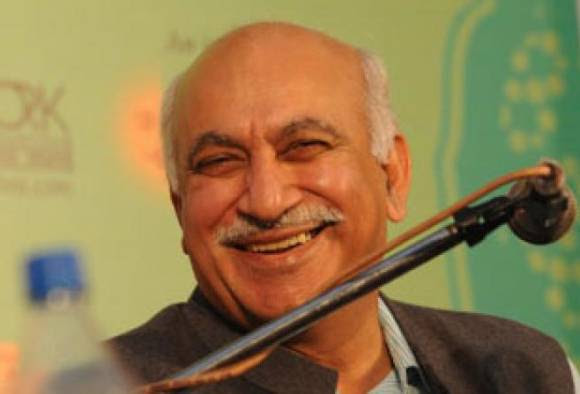 MJ Akbar, who was made a minister on Tuesday, is from a time when English editors were national celebrities. Akbar was in his mid 20s when he became editor of Sunday magazine, published from Calcutta. He was in his 30s when he launched the Telegraph newspaper and in his 40s when he launched his own publication, Asian Age.
All this time, he also had a second career. He was a Lok Sabha MP from Bihar in Rajiv Gandhi's second election, the one he lost to VP Singh in 1989. Syed Shahbuddin, whom Akbar defeated, said he was physically prevented from filing his nomination. Whether this was true or not it showed how strong was the desire of Akbar to come to power. Unfortunately for him, Akbar was only able to achieve the post of spokesman and after Rajiv Gandhi's death, he was discarded by Narasimha Rao.
According to a story Akbar told, once he and Rajiv Gandhi were together when Rao entered the room. The old man had a small mishap, I think he tripped over his dhoti, and the two younger men laughed. Rao did not forget and Akbar's career with Congress was shortlived.
I have known Akbar for over 20 years and believe he was the finest editor of English in India.
Better than Arun Shourie and Vinod Mehta and Pritish Nandy, and he knew it. When Shourie became a minister and Nandy a Rajya Sabha MP in the mid 1990s, Akbar would have felt jealous at seeing people who were his juniors in journalism achieve what he wanted and what he was convinced, he deserved more than they did.
When Sonia Gandhi took charge of the Congress, Akbar was hopeful for some time that he could return to favour but this did not happen. His newspaper also ran into financial trouble and he was fired from his post by the other partners. This began a long spell when he was on the margins and this is when, almost secretly, he began to cultivate Narendra Modi.
To me this is surprising for two reaons. First, because some of the sharpest criticism of Modi has come from Akbar. Attacking Hindutva policies in Gujarat, Akbar wrote an editoral under the headline 'there must be a difference between a mob and a government'. In his regular column, he wrote "Narendra Modi has done enough by now to win the highest honor that a nation can give. Not our nation. What the chief minister of Gujarat truly deserves is the Nishan-e-Pakistan."
He said that Modi had "served the interest of Pakistan" by "trying to destroy the idea of India as a nation in which every citizen is equal irrespective of his faith. He has provided the evidence that was once offered only as argument."
He added: "Till he started his lynch-mob response to the cruel tragedy of Godhra, all the negative focus of South Asia was concentrated on Pakistan."
The second reason I was surprised was because Akbar is truly secular in a way most of us are not. He keeps dozens of idols of Ganeshji in his office and has belief in the power of that god. He also is a regular, like his namesake the Mughal emperor Akbar, at the dargah of Moinuddin Chisti in Ajmer. He is not the sort of person who would ever subscribe to the RSS idea of India.
He can be described as a Nehruvian and his biography of India's first prime minister is his most serious work of non fiction. Akbar's ideology has been transferred to dozens of journalists who worked under him, like Sankarshan Thakur and Manini Chaterjee and Seema Mustafa. All were surprised when suddenly the news came that Akbar was joining the BJP, the party he has written against for decades.
But it is true that today, when he is in his mid 60s he has finally achieved his goal somewhat. I say somewhat because Akbar is not a Cabinet minister, nor a minister of state with independent charge. He is merely one among many ministers of state. He will be reporting to another minister and I am certain Akbar will feel that he is that individual's intellectual superior.
Many years ago he one day said to me he wanted to be prime minister of India but could not because he was Muslim. At least he has become a minister. And if that has required discarding all the principles and disowning all of his own writing, to him that may not be a big price to pay.
First Published:
Saturday, 9 July 2016 3:11 PM