http://indianexpress.com/article/opinion/editorials/afspa-manipur-kin-judicial-killing-army-supreme-court-petition-2907898/
Calling to account
Supreme Court makes it clear: AFSPA does not provide blanket immunity to army personnel.
By: Editorial |

Published:July 12, 2016 12:00 am
The Supreme Court ruling on the petition filed by the Extra Judicial Execution Victims Families Association, a representative platform of people in Manipur whose kin have allegedly been summarily killed by security forces, is a strong critique of the manner of deployment of the Armed Forces Special Powers' Act (AFSPA). The petition had alleged that there have been over 1,500 extra-judicial killings in the state and pleaded for the court's intervention to deliver justice.
The state and its agencies, under the cover of AFSPA, had sought immunity from legal scrutiny. The SC order has refused to be imprisoned by the state's security-centric framework and the resultant curtailing of the citizen's fundamental rights.
The validity of the AFSPA, first introduced in 1958, has periodically come under scrutiny. A constitutional bench had upheld the act in the Naga People's Movement of Human Rights , the Justice B.P. Jeevan Reddy committee advised the government to repeal it. Last week's order does well to outline three crucial principles: One, the "order situation in Manipur is, at best, an internal disturbance. There is no threat to the security of the country or a part thereof either by war or an external aggression or an armed rebellion"; two, "for tackling the internal disturbance, the armed forces of the Union can be deployed in aid of the civil power. The armed forces do not supplant the civil administration but only supplement it"; three, "the deployment of the armed forces is intended to restore normalcy and it would be extremely odd if normalcy were not restored within some reasonable period, certainly not an indefinite period or an indeterminate period". The court has refused to accept the state's plea that the extra-judicial killings, which took place in "a war-like situation", need not be investigated. The pointed reference to "restoring normalcy within some reasonable period" has particular resonance in Manipur, a state where the AFSPA has been in force for nearly six decades.
The AFSPA provides the framework for the armed forces but the law clearly lays down the operational procedure which is more often violated than followed. The court has made it clear that the state is bound by the direction of the Constitution bench that "every death caused by the armed forces" should be thoroughly inquired into if there is a complaint or allegation of abuse or misuse of power. In so doing, it disabuses the state of the notion that the AFSPA provides a blanket immunity to army personnel in anti-insurgency operations. To argue that the absence of such immunity could demoralise the forces, the court says, "unsettling and demoralising, particularly in a constitutional democracy like ours h. Commendably, the court has laid the ground for a framework of accountability that the state needs to adopt in its responses to insurgency.
Face the disillusion
In its new phase, the 'azadi' struggle in Kashmir is leaderless, and has a strong death wish
.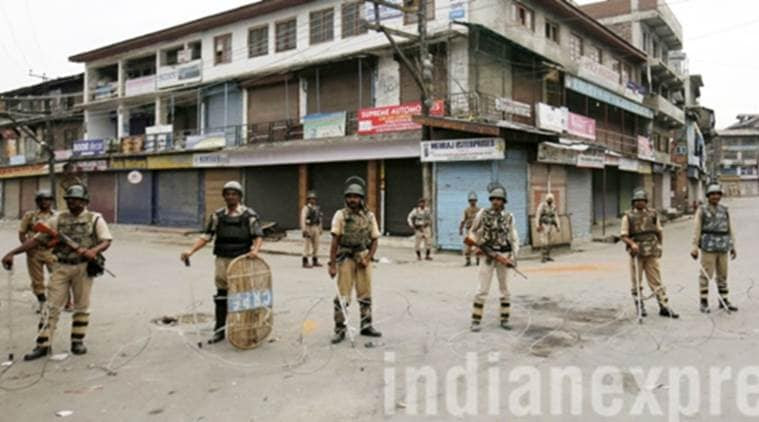 The security establishment may well conclude that there were faceless entities orchestrating the arrival of the tens of thousands of mourners from across the state over WhatsApp and other social media, that there were over ground workers in the crowd provoking the acts of violence. (Express Photo by Shuaib Masoodi)
Back in April, when Hizbul Mujahideen commander Burhan Wani was still alive, young boys in his home town of Tral declared they were readying for a long struggle in which there would be no leaders. My colleague Basharat Masood and I were in Tral to report on the new militancy centred in South Kashmir, and that remark came when we observed that Burhan and the other militants with him were likely to be captured soon as the police had already eliminated many of them and were said to be closing in on him.
"New militants will come. We are safe now because we have already transferred the struggle to the next generation. The cause is bigger than the individual. Even if [Hurriyat leader Syed Ali Shah] Geelani or [Hizbul Mujahideen leader Syed] Salahuddin side with India, our struggle will not end." The Centre would try and engage with Kashmir, they said, "but they will find no one to engage with, because there will be no leaders, no one subscribes to any leaders any more".
Leaders made compromises, they said. Even though many of these boys were not born or were infants at the time, in their minds was inscribed the notion that the previous generation of militants took up the gun because they wanted to become high officials in Kashmir, liberated or not. "Some of them thought, here comes azadi, now I can become a minister, may be even prime minister". Burhan, on the other hand, was seen to be "pure", because he had no such "greed", no political ambition.
There were no leaders at Burhan's funeral on Saturday. The security establishment may well conclude that there were faceless entities orchestrating the arrival of the tens of thousands of mourners from across the state over WhatsApp and other social media, that there were over ground workers in the crowd provoking the acts of violence.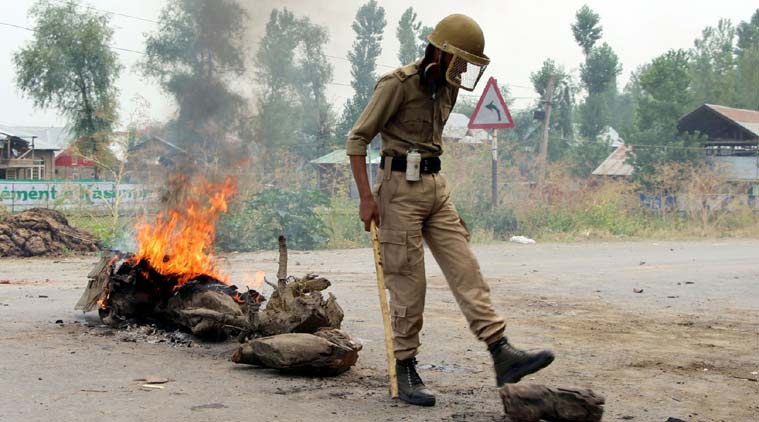 (Express Photo by Shuaib Masoodi)
That may or may not be true. But the mourners who streamed into Tral from all parts of the state did not believe that they were acting on anyone's instructions. As they took over the roads leading to Tral, burning tyres and pelting stones, policing the massive influx of people, in their minds they were reacting in spontaneous anger.
As Kashmir boils over at the killing, it is this leaderlessness, and the new ideal of the "azadi" struggle as one that ends in death and a hero's funeral that should worry the security and political establishment. Even a call for calm by Geelani has not helped defuse the situation. Young Kashmiris continue to revere him as the only leader who has "not compromised" but even he was not spared, as protestors jeered at his appeal.
This is not a situation that developed overnight. Since 2008, when the Mumbai attacks put talks with Pakistan in the freezer and all attempts at a restart tripped up repeatedly, the disillusionment of a new generation of Kashmiri youth has grown, with the continuing presence of the military, Centre's insistence on keeping AFSPA, and continuing human rights violations, all erupting in the stone pelting agitation of 2010. Then, anger over the 112 deaths of young boys in that episode segued into popular discontent over the 2014 alliance between the PDP and BJP in the last two years, bringing the Valley closer to the bruising debates in the national arena over what to eat and who to marry.
Meanwhile, for a full decade now, since the round table exercise by the previous government under then Prime Minister Manmohan Singh, there has been no political initiative by the Centre in the Valley except the doomed three-member interlocutors panel set up to find out views on the ground and suggest ways to address the issue. Its report has lain in cold storage since 2011. It is the same with the recommendations of the round table committees. That has left the moderate factions of the Hurriyat, which participated in the round table process, in the cold. They had nothing to show for their compromise, and it diminished them in the eyes of a new generation of Kashmiris.
The NDA government has made it clear that it wants nothing to do with either the moderates or hardliners in the Hurriyat, nothwithstanding a cursory line in the BJP-PDP "agenda for alliance" that "the state government will facilitate and help initiate a sustained and meaningful dialogue with all internal stakeholders which includes political groups irrespective of their ideological views and predilections". If the Centre is firm that it will deal only with the elected representatives in Kashmir and mainstream political parties, the NDA government has hardly been proactive in facilitating even the implementation of the doable political promises in the coalition's common programme, despite entreaties by the PDP and Chief Minister Mehbooba Mufti.
With infiltration down and fewer incidents of terror strikes in Kashmir, the smugness in the political and security establishment has been apparent. Only a few thousand Kashmiris protesting on the streets, only a handful of militants, we can do encounters, we can do crowd control, it is all very manageable, has been the confident refrain.
(Express Photo by Shuaib Masoodi)
But the problem with this is that it is almost entirely security driven. It has meant firing into crowds of youngsters with lethal weapons, resulting in deaths or life-impairing injuries — many boys hit by pellets are landing up at eye hospitals in Amritsar for treatment with their parents fearing their sons might be picked up by police if they went to local hospitals. It has meant taking out militants, which did not seem to matter so long as they were from across the border, but has taken on an entirely different meaning after Kashmiri boys began following Burhan's example. The fierce resistance put up by local communities, from under 10-year-olds to senior citizens, at encounter sites, and the mass displays of anger more than grief at their funerals, is now all too well known. The police say that the death in encounter of a local militant is a sad event, yet security forces repeat such encounters and are each time taken by surprise at the public reaction.
What this approach has done is to bring out kids as young as 8 or 12-years old, to whom defiance of the Indian state is now as natural as playing cricket. Each death, of a militant or protestor, has become a celebration of this defiance, triggering more protests, adding more grievances, increasing the alienation. In death, Burhan has caused more turmoil in two days than in his six years as a militant. In April, Burhan's father, Muzaffar Ahmad Wani, a school teacher, had told The Indian Express: "Kashmir is on fire. If India wants to douse it, they need to use water, not oil". That, really, is the lesson from Kashmir's weekend of fury.
Kashmir protests: Pellets take a toll, 92 eye surgeries and counting


Pellet guns have been regularly used to quell protests in Kashmir since 2010, when the state police introduced them as "non-lethal weapon", their use has increased over the years.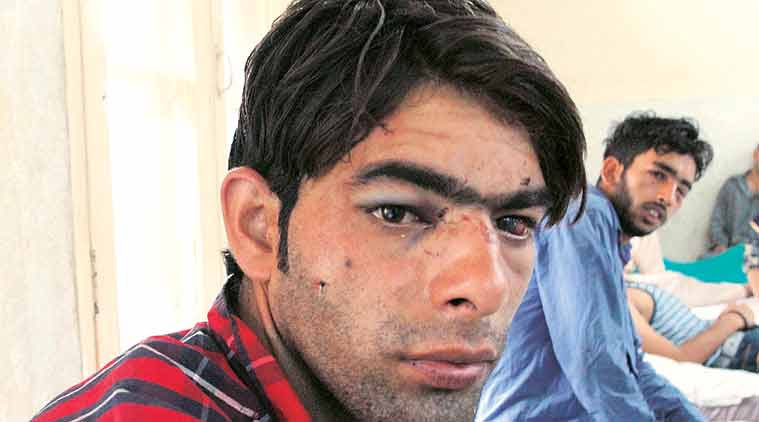 All 72 beds in the ophthalmology ward of Srinagar's SMHS hospital, where Yasin is recovering, are occupied — some by two patients. (Express Photo: Shuaib Masoodi)
Eighteen-year-old Mohammad Yasin lies on a hospital bed, his vision smeared with a white haze. He is not sure if he will ever see properly again.
All 72 beds in the ophthalmology ward of Srinagar's SMHS hospital, where Yasin is recovering, are occupied — some by two patients. The patients are mostly young, many of them minors, including a 12-year-old girl. The hospital administration had to vacate half of the adjoining medicine ward to accommodate the rush of youths with injuries to their eyes, sustained in protests in the wake of Burhan Wani's killing.
"We have already operated on 92 patients. Every hour, more young men arrive with pellet injuries to the eyes. We are overburdened," said Dr Sajjad Khanday, an ophthalmologist.
He said the injuries are so severe that the damage is almost always permanent. "In most cases, the first people to speak to patients are policemen in plainclothes. They record their antecedents even before we can examine them," he said. "We had to shut our operation theatre in the trauma unit because it was getting difficult to stop people from entering."
Though pellet guns have been regularly used to quell protests in Kashmir since 2010, when the state police introduced them as "non-lethal weapon", their use has increased over the years. The use of pellet guns in the current clashes, doctors said, is "unprecedented".
The pellets, sources said, come in grades ranging from 5 to 12, depending on damage, range and speed; 5 being the most damaging. Sources said number 9 is preferred to control crowds but police often use the stronger number 6 or number 7 in villages.
"These pellets don't kill you, which means there isn't any body count, so police are fine with it. But once a young man loses one or both of his eyes, it is worse than death," Khanday said. "Not just his life, his entire family is destroyed. We have seen families take their children to places like Chennai in the hope that vision can be restored. It takes years for a family to accept the fate. There are very few cases where intervention helps after a pellet has pierced the eye."
Inside Ward 8, Yasin, a resident of Chursoo village, said he had gone to Tral on Saturday to participate in Burhan's funeral. He was returning home when policemen fired pellets at a group of about 20 boys. "I was the only one hit. I remember something burning entering my eye. I felt an excruciating pain," he said. "I walked many miles to reach Awantipora hospital. The doctors there told me they cannot help."
He said he saw an ambulance van heading to Pampore and boarded it. Then he hopped into another ambulance which took him to Srinagar. "I have two pellets in my right eye. My family doesn't know what has happened to me. I haven't been able to reach them on the phone."
An older boy, recovering on the same bed, was hit by a pellet on the left eye. Distributing biscuits to others in the ward, he said, "I can't see a thing from my left eye. We were protesting. We were shouting slogans. They (the police) came and fired pellets."
He then unbuttoned his shirt and said, "Look at the injury marks on my chest."
Doctors said even patients who can see right now sometimes complain of vision loss after a few weeks. "These pellets are devastating for the eyes. They make a hole and destroy the tissue. We can do nothing to help. There are 10 such cases today," Khanday said.
One patient, hit by a pellet on the right eye during a protest in Parimpora on Monday, said his only consolation is that "I can still see with one eye". "I am very angry. They want us blinded for life. Is this the way to treat people who are seeking their rights?" he said.
Khanday said a lot of cases go unreported. "It took one patient two days to come from Achabal (south Kashmir) to the hospital. There are many who are not able to make it here," he said. "One young man lost an eye to a pellet earlier. The healthy eye was hit by a pellet today."
Another senior doctor at SMHS hospital who did not wish to be named said, "We have never seen anything of this magnitude. Everyone who came here has pellet wounds above the chest."
A senior police officer said that while they are aware of devastating effects of such eye injuries, they don't have an option. "The use of pellet guns to control protests is preferred to the use of live ammunition. Deaths attract a lot of attention. Plus there is a view that when a protester is hit with a pellet in the eye, it becomes a deterrent. I don't agree with this, but that is what is happening," the officer said.