It is shameful for BJP to have come to power at the center, apparently with a clean election majority, to revert back to the days of corruption that marred practically all of India's past 'democratic' elections. They should have started with new zeal and sincere spirit to rid India of the malaise of political corruption. For a moralist, winning election by hook and crook is not worth the effort and a blot not only on its name and goodwill but a betrayal of Mother India's finest ideals of probity and strict following of its legal framework. BJP should bravely accept the mistake, announce publicly that it disassociates itself with any such clock and dagger harebrained schemes to play with peoples votes and mandate. Let us all call it a day. If India has rid of Congress over its rampant corrupt practices, in practically every sphere of public life, the new dispensation should have realized how passionately people are looking towards a new dawn of probity and integrity. The AAP sting video showing BJP's high official in Delhi offering 4 lakh rupees each for the purchase of 'elected' MLAs has shattered people's trust with the new resolve to give India a new life, new direction, a new sliver of hope. BJP should still rise up and clean its stable. It is better to sit back and wait for people's mandate, rather than to go back to the era of horse-trading which is nothing but an open fraud on the people of India.
Ghulam Muhammed, Mumbai
<ghulammuhammed3@gmail.com>

----- ----- ----- ----- -----
.
http://timesofindia.indiatimes.com/city/delhi/Delhi-govt-formation-AAPs-sting-dims-chances-of-new-govt-without-re-poll/articleshow/42056129.cms
Delhi govt formation: AAP's sting dims chances of new govt without re-poll
Risha Chitlangia,TNN

|

Sep 9, 2014, 12.34 AM IST

NEW DELHI: Chances of a new government being formed in the capital without a re-election look bleak after AAP's sting operation on Delhi BJP vice-president Sher Singh Dagar. BJP, which has not clarified its stand on forming the government, will now find it difficult to stake a claim. Party sources said any attempt to cobble together a majority will leave it open to attack from AAP and Congress.

Although it doesn't have a majority, BJP has always maintained that 'all options are open'. LG Najeeb Jung's report to the President indicating the possibility of government formation in Delhi had led to speculation that BJP, which is the single largest party in the Delhi assembly, will finally take a shot at power. With most MLAs said to be against a re-election so soon, BJP could have sustained a minority government and strengthened its base in the city.
READ ALSO: AAP shows sting video, alleges BJP trying to buy MLAs

The sting reportedly shows Dagar trying to bribe AAP MLAs to resign from the assembly. The resignations would have not only reduced AAP's strength in the assembly but also brought down the majority mark. Delhi BJP president Satish Upadhyay said the sting doesn't affect his party's position but others in the party said that any attempt to form a government now will hurt its image.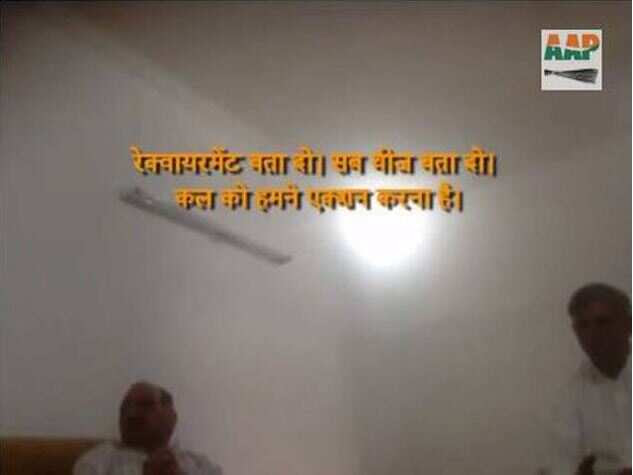 A grab from the alleged sting video link posted by Aam Aadmi Party on its website.

"Our stand is the same. We are exploring all possibilities. We will decide on the issue after we get an invitation from the LG. So far, we have not received it. A decision will be taken keeping the interest of Delhiites in mind. We don't want Delhiites to suffer. Development work has been on hold for the past one year,'' said Upadhyay.

Senior leaders said BJP's position will become clearer after Tuesday's hearing in the Supreme Court. BJP MPs in Delhi have already told the party high command to consider a re-election. "There is no way we can form the government, as we don't have the numbers. We have told our seniors that BJP should consider re-election. We have already turned down the offer to form the government once,'' said an MP.

Upadhyay is likely to meet senior party leaders in the next few days to discuss the future course of action.

Sources say that even if BJP doesn't form the government in the capital, a re-election is likely only in January next year.
READ ALSO: Despite LG's nod, BJP may struggle for numbers
Stay updated on the go with The Times of India's mobile apps. Click here to download it for your device.